China
NPC Standing Committee approve Plenary session agenda
Source: CCTV.com | 03-01-2007 08:49
Special Report: 2007 NPC & CPPCC

<!a href=# target=_blank>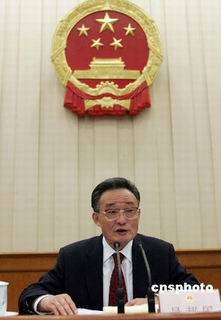 <!a href=# target=_blank>
The Standing Committee of the National People's Congress has finished its final meeting before the full session that starts on Saturday.
Members voted on the Plenary session agenda and agreed to publish the draft law of employment promotion so the public can give opinions.
Members of the Standing Committee voted to pass the Plenary session's agenda, the composition of the presidium, and the work report of the Standing Committee.
This year's NPC's Plenary session will open on the fifth of March.