China
26th session of 10th NPC Standing Committee held
Source: CCTV.com | 02-27-2007 08:29
Special Report: 2007 NPC & CPPCC

<!a href=# target=_blank>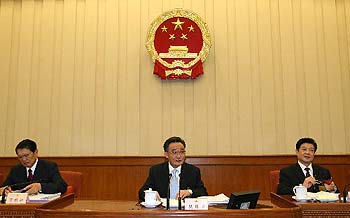 <!a href=# target=_blank>Wu Bangguo (C), chairman of the Standing Committee of the National People''s Congress (NPC), presides over the 26th session of the 10th NPC Standing Committee in Beijing, Feb. 26, 2007.(Xinhua/Huang Jingwen)
In Beijing, the Standing Committee of the National People's Congress held. It met on Monday for a first reading on the employment promotion law.
The Employment Promotion Law is the only one under discussion at this Standing Committee meeting.
The Ministry of Labor and Social Security says there are contradictions that need to be dealt with in the supply and demand of the labor force in the country, and in the structure of the labor force.
Tian Chengping, Min. of Labor & Social Security, said, "The basic principle of the law is to materialize and institutionalize the country's policy of employment promotion, in order to establish a long term mechanism of employment promotion."
This meeting of the Standing Committee is the last one before the fifth plenary session of the tenth National People's Congress to be held next Monday.
The members of the Standing Committee will spend the next three days discussing the annual session's agenda, the composition of the presidium, and the Standing Committee's work report of the year past.
<!a href=# target=_blank>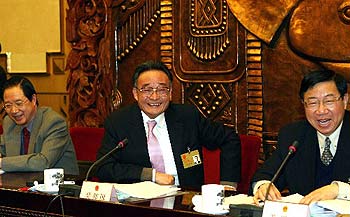 <!a href=# target=_blank>Wu Bangguo (C), chairman of the Standing Committee of the National People''s Congress (NPC), smiles while discussing the work report of the NPC Standing Committee during the 26th session of the 10th NPC Standing Committee in Beijing, Feb. 26, 2007. (Xinhua)
One piece of good news from the Standing Committee is that this year's session of the National People's Congress will be more open to the public. For the first time, the Chairman's work report on the Standing Committee will be broadcast live. There will be more press conferences, and new channels of information for the public.
Editor:Du Xiaodan