China
Backgrounder: Talks between leaders of ARATS and SEF
Source: CCTV.com | 04-26-2009 15:30
Special Report: 3rd round of cross-strait talk

The talks between Chiang and Chen began last year. Now let's take a brief look back at their talks.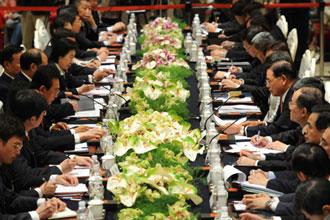 Chen Yunlin, president of the mainland's Association for
Relations Across the Taiwan Straits (ARATS), holds talks
with Chiang Pin-kung, chairman of the Taiwan-based Straits
Exchange Foundation (SEF), in Nanjing, east China's Jiangsu
Province, on April 26, 2009. This was the third round of
talks between them in less than a year.(Xinhua/Sun Can)
MARCH, 2008
In March, 2008 Ma Ying-jeon, the candidate representing Taiwan's Kuomintang, or KMT, won the island's leadership election. Ma said people across the Taiwan Straits are all Chinese, creating an opportunity for the resumption of cross-strait talks.
MAY 29TH, 2008
In May last year, the mainland-based ARATS invited SEF Chairman Chiang Pin-kung to visit Beijing for talks on the cross-Strait weekend chartered flights and mainland tourists traveling to Taiwan.