China
Chinese naval fleet safely escorts 13 ships
Source: CCTV.com | 02-20-2009 09:17
Special Report: China navy's escorting mission

Click for more news in China Today>>
A Chinese naval fleet has safely escorted thirteen merchant ships through the Gulf of Aden off the coast of Somalia. It's the navy's largest single operation since arriving in these waters.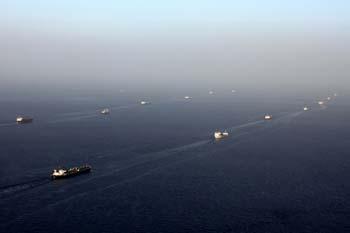 Photo taken on Feb. 17, 2009 shows the grand view of the
merchant vessels escorted by the Chinese naval fleet in the
Gulf of Aden.(Xinhua/Li Tang)
The Chinese naval mission completed its twenty-first operation of escorting merchant ships in the Gulf of Aden.
Ten Chinese vessels and one each from Germany, Singapore and Cyprus were given safe passage. The ships arrived at a designated point in the east of the Gulf early on Wednesday morning.
Somali Pirates hijacked dozens of ships last year, taking tens of millions of dollars in ransom payments.
The piracy has triggered an unprecedented deployment by foreign navies including those from China and the European Union.
China sent its naval mission to the region last month to help combat the attacks.