China
Xi Jinping urges closer China-Mexico ties
Source: CCTV.com | 02-11-2009 13:39
Chinese Vice President Xi Jinping wants more effort to promote China-Mexico ties. He says the China-Mexico strategic partnership needs strong support and participation from the parliaments of both countries.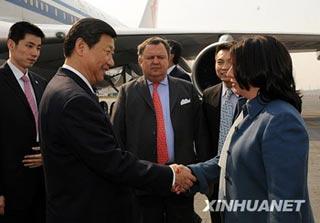 Chinese Vice President Xi Jinping arrived at Mexico City
on Feb. 9, 2009.
Xi has met with Gustavo Enrique Madero Munoz, president of the Mexican Senate, and Cesar Duarte Jaquez, president of the Chamber of Deputies in Mexico City. He says he wants enhanced exchanges and communication between China's National People's Congress and the Mexican parliament.
Xi also spoke at a luncheon hosted by Chinese and Mexican entrepreneurs. He said China-Mexico economic and trade cooperation needs more promotion amid the global financial crisis. The luncheon was held on the sidelines of a Plenary Meeting of the Mexico-China Business Committee.
Mexico is the first leg of Xi's six nation-tour, which will also take him to Jamaica, Colombia, Venezuela, Brazil and Malta.
Editor:Xiong Qu