China
Chinese Vice President Xi Jinping meets with Fijian leaders
Source: CCTV.com | 02-11-2009 09:03
Special Report: Xi visits L. America, Malta

Click for more news in World Wide Watch>>
Vice President Xi Jinping has arrived in Mexico for an official visit after making a transit stop in Fiji.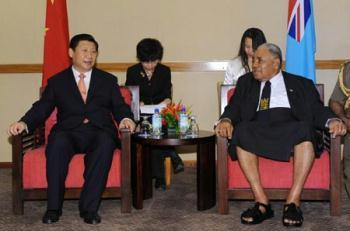 Chinese Vice President Xi Jinping (L) meets with Fiji President
Josefa Iloilo in Nandi, Fiji, Feb. 9, 2009. (Xinhua/Huang Jingwen)
Before his departure, Xi Jinping met with Fijian President Josefa Iloilo on Monday. Xi extended his sympathies on the recent flood which caused widespread devastation in Fiji. Iloilo hailed the smooth development of Sino-Fijian ties.