World
Miliband visits scene of Mumbai attacks
Source: CCTV.com | 01-16-2009 10:55
Special Report: Terror attacks in Mumbai

Continuing his trip to India, Britain's Foreign Secretary visited the Taj Mahal Hotel on Thursday.
The hotel was one of the major sites besieged by terrorists in last year's attacks on India's financial hub.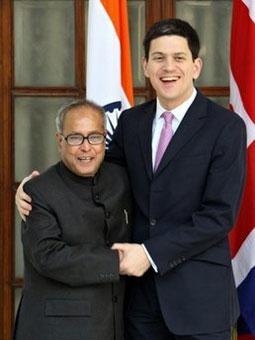 Indian Foreign Minister Pranab Mukherjee (left)
shares a light moment with Foreign Secretary
David Miliband in New Delhi on January 13.
(AFP/File/Prakash Singh)
David Miliband also criticized US-led efforts to maintain global security since 2001.
He said the US-coined phrase "war on terror" suggests military action is the main means in dealing with terrorist threat. He also called on the US to close prison camp at Guantanamo Bay in Cuba.
Editor:Zhang Pengfei