World
Pakistan to carry out probe of Mumbai evidence
Source: CCTV.com | 01-07-2009 14:26
Special Report: Terror attacks in Mumbai

Pakistan's top leaders have discussed the tension between India and Pakistan and steps to defuse it. A Pakistani senior diplomat has denied accusations that the country will reject evidence linking Pakistani militants and the recent terrorist attacks in Mumbai.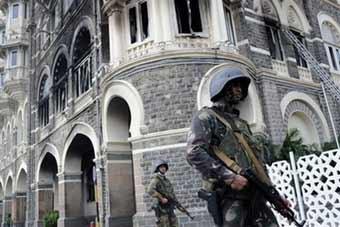 Indian soldiers stand guard outside the Taj Mahal hotel
in Mumbai. Indian Prime Minister Manmohan Singh says the
Mumbai attacks had the support of "some official agencies"
in Pakistan, in his strongest accusation yet against the
neighbouring country.(AFP/File/Pedro Ugarte)
Pakistani President Asif Ali Zardari and Prime Minister Syed Yousuf Raza Gilani have agreed to carry out a credible investigation of the evidence provided by India on the Mumbai attacks.
They say strict action will be taken against any group found involved in the Mumbai carnage.
Zardari says Pakistan condemns state sponsored terrorism in all forms. And he says Pakistan's armed forces are ready to foil any attempt of violence.
Meanwhile, Pakistani High Commissioner to India Shahid Malik said that Pakistan is examining the evidence handed to it.
Shahid Malik, Pakistani High Commissioner to India, said, "There is no question of rejection or otherwise. We are examining the material that has been given to us."
Earlier, Indian Prime Minister, Manmohan Singh, said that the sophistication of the Mumbai siege indicates that Pakistani authorities must have had a hand in the attack.
Editor:Zhang Yun