World
Ethiopia hands over Somalia security
Source: CCTV.com | 01-14-2009 10:41
Special Report: China navy's escorting mission

Ethiopia has handed over security duties in neighboring Somalia to a joint force of Somali government security forces and Islamist militiamen.
Somalis overwhelmingly welcomed the Ethiopian withdrawal despite any guarantee that the Islamists would be able to restore peace.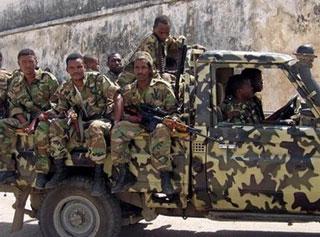 File picture shows Ethiopian troops in Mogadishu.
(AFP/File)
It remains unclear when thousands of Ethiopian troops will fully withdraw from Somalia. They're reportedly pulling out in stages and are not giving exact dates for security reasons.
Some fear the Ethiopians' departure will allow the strengthening Islamic insurgency to further take over the nation. Widespread lawlessness has allowed piracy to flourish off the Somali coast.
Editor:Zhang Pengfei