China
Chinese citizen safe in Gaza
Source: CCTV.com | 01-04-2009 14:01
Special Report: Israel airstrikes in Gaza

The only Chinese citizen living in Gaza is safe.
Counselor Lin Zheming, from China's Representative Office in the Palestinian National Authority in Ramallah, has told CCTV that his office has kept in contact with the female citizen.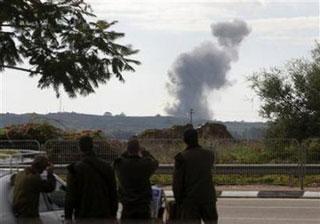 Israeli soldiers look out towards Gaza during an Israeli
air strike, from Yad Mordekhay, just outside the northern
Gaza Strip January 3, 2009. (Ronen Zvulun/Reuters)
She is in good condition and has not been in any danger.
Editor:Zhang Pengfei