World
Pakistan confirms 2 Mumbai suspects arrested
Source: CCTV.com | 12-11-2008 09:02
Special Report: Terror attacks in Mumbai

Pakistan has confirmed the arrest of two men reportedly wanted by India in connection with the Mumbai attacks. Wednesday's announcement is Pakistan's first official confirmation of Sunday's arrests.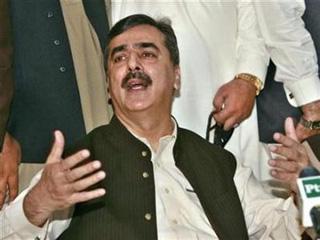 Pakistan's Prime Minister Yousaf Raza Gilani speaks
during a news conference in Multan October 2, 2008.
(Asim Tanveer/Reuters)
Pakistani Prime Minister Yousuf Raza Gilani says Zaki-ur-Rehman Lakhvi and Zarar Shah are in custody and are being investigated.
India alleges Lakhvi is one of the masterminds of last month's attacks that killed 171 people. Indian media reports have identified Zarar Shah as another suspect in the assaults.
The announcement of the arrests could deflect intense US and Indian pressure on Pakistan following the attack.
Yousuf Raza Gilani, Pakistani Prime Minister, said, "It is a good message for our neighborly countries and for the whole world is that Pakistan is a responsible nation and they are doing the investigation own their own."
Gilani says India has shared no evidence or information with Pakistan about its suspicions surrounding the men. And Pakistan has made it clear it will not hand the men over to India.
India has so far not made any comment on the arrests in Pakistan.
Officials say Lakhvi was arrested on Sunday in a raid on a militant camp in Muzaff-arabad, close to the Indian border.
Pakistan has intensified its crackdown on a militant group suspected in the Mumbai attacks by arresting 20 more people.
Editor:Zhang Pengfei