World
Riots erupt outside Greek parliament
Source: CCTV.com | 12-11-2008 09:02
Greek police and youths have clashed during a demonstration in central Athens to mark a nationwide general strike.
Riot police fired tear gas when a small group of youths began throwing Molotov cocktails and rocks at them near Parliament.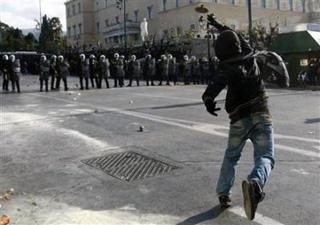 A protester throws a stone at policemen guarding
Greece's parliament in Athens December 10, 2008.
(Yiorgos Karahalis/Reuters)
More than 10-thousand people marched through the center of the city on Wednesday, in a demonstration to protest the beleaguered government's economic policies.
Across the country, civil and transport services shut down or staged work stoppages, while flights were cancelled, and banks, hospitals and schools remained closed.
Residents say there is a general discontent among the public over the state of the country.
Greek Resident, said, "We have to understand what the people need, why young people are upset, not look at a bunch of hooligans smashing things but what the young people are feeling."
Greek Resident, said,"I only have one thing to say, I am ashamed to be a Greek, I am so disappointed."
Also on Wednesday, the lawyer for the two officers accused of the fatal shooting of a teenager that set off the unrest, said ballistic tests show the boy was killed by a ricochet and not a direct shot.
One officer has been charged with murder and the other as an accomplice. They were to appear in court later in the day.
Editor:Zhang Pengfei