World
EU comments on Zimbabwe, Somalia
Source: CCTV.com | 12-09-2008 10:07
Moving now to Zimbabwe where a cholera outbreak that's killed 500 people continues to cause concern.
In the latest. French Foreign Minister Bernard Kouchner says the EU has asked the World Health Organization to intervene.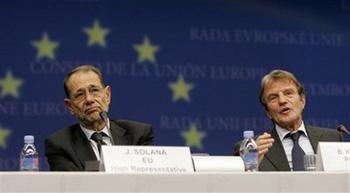 French Foreign Minister Bernard Kouchner, right, speaks
during a media conference after a meeting of EU foreign
ministers at the EU Council building in Brussels, Monday
Dec. 8, 2008.(AP Photo/Virginia Mayo)
Zimbabwe's cholera epidemic comes on top of a collapsed economy and health care system.
At least a quarter of the population has fled the country.
Many of those who remain are surviving on leaves and roots, struggling to find clean drinking water.
Kouchner says the EU would reinforce sanctions on the country on a daily basis depending on how the situation evolved. But he stresses the World Health Organization has, under its chart, the power to intervene in the impoverished country like it has done with other health epidemics.
Bernard Kouchner, French Foreign Minister, said, "We have also decided to ask the World Health Organization, who you know can act in the case of an emergency, whatever the participation of the considered countries, as it did with SARS, the lung disease epidemic, cholera is on a list of transmittable diseases for which an international sanitation intervention can be requested."
In other matters, EU foreign policy chief Javier Solana says the bloc has agreed to deploy its "first naval operation of the European Union" to combat piracy amid growing alarm over attacks on international shipping.
Javier Solana, EU Foreign Policy Chief, said, "As you know today it has been approved also to launch tomorrow the operation in Somalia, a very important operation, the first naval operation of the European Union, and in a place in the world that everybody is looking at because of the new problems related to piracy. It's very important and we have taken that decision to launch it tomorrow."
Six warships will deploy early to the waters off the Horn of Africa and are scheduled to arrive on December 15.
Editor:Zhang Pengfei