World
Somali refugees face humanitarian crisis
Source: CCTV.com | 12-05-2008 13:50
The UN says northern Kenya faces a looming humanitarian crisis, as camps for Somalis fleeing war in their country are severely strained.
The Dadaab refugee camp in Kenya is swelling with new residents because of the continuing insurgency in Somali.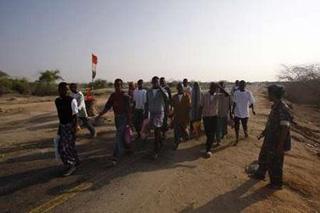 A Yemeni soldier looks at Somali refugees crossing a
police checkpoint on a highway, as they walk from Ahwar
town to the southern port city of Aden December 4, 2008.
REUTERS/Khaled Abdullah
The UN refugee agency says it's registering about five hundred newcomers a day as thousands flee fighting.
Although the camps in Kenya are much safer than home, the increase in numbers of Somalis streaming in is overwhelming.
And health risks are rising. More than 200-thousand refugees are crammed into dusty makeshift camps intended to hold 90-thousand people.
Editor:Zhang Pengfei