China
China condemns terrorist attacks in Mumbai
Source: CCTV.com | 11-28-2008 08:42
Special Report: Terror attacks in Mumbai

China and the international community have joined in condemning the terrorist attacks in Mumbai which singled out foreigners as targets. Several countries already say they want to help Indian authorities in handling the aftermath.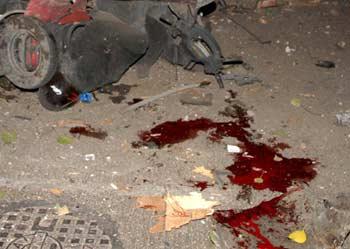 A view of the site of attack in the Colaba area in Mumbai,
India, Nov. 27, 2008.(Xinhua Photo)
Chinese Foreign Ministry spokesman Qin Gang said, "China firmly opposes any forms of terrorism. We offer our condolences to the victims of those bombings and express our sincere sympathy to the injured and their relatives."
Editor:Zhang Ning