World
PM: Mumbai attacks carried out by group based outside India
Source: Xinhua | 11-28-2008 07:53
Special Report: Terror attacks in Mumbai

MUMBAI, Nov. 27 (Xinhua) -- The attacks in Mumbai which killed more than 100 people were carried out by a group based in a foreign country, said Indian Prime Minister Manmohan Singh Thursday.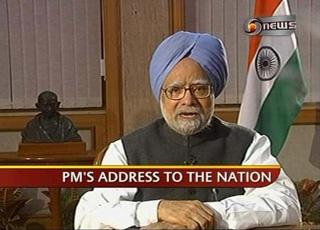 A video grab from DDI television shows Indian Prime
Minister Manmohan Singh addressing the nation over
attacks in Mumbai that have killed more than 100 people,
in New Delhi Nov. 27, 2008.(Xinhua/Reuters Photo)
"It is evident that the group which carried out these attacks, based outside the country, had come with single-minded determination to create havoc in the commercial capital of the country," Singh said.
"The well-planned and well-orchestrated attacks, probably with external linkages, were intended to create a sense of panic, by choosing high profile targets and indiscriminately killing foreigners."
"I strongly condemn these acts of senseless violence against innocent people, including guests from foreign countries," said the Prime Minister. "I offer my deepest condolences to the bereaved families and sympathies to those injured. The Government will take all necessary measures to look after the well-being of the affected families, including medical treatment of injured."
"Most importantly, it is essential to immediately set up a Federal Investigation Agency to go into terrorist crimes of this kind and ensure that the guilty are brought to book," he said.
"We will take up strongly with our neighbors that the use of their territory for launching attacks on us will not be tolerated, and that there would be a cost if suitable measures are not taken by them.
"I am confident that the people of India will rise unitedly to face this grave challenge to the nation's security and integrity," Singh added.
Editor:Zhang Pengfei