World
Indian PM calls for emergency meeting
Source: Xinhua | 11-27-2008 15:28
Special Report: Terror attacks in Mumbai

NEW DELHI, Nov. 27 (Xinhua) -- Indian Prime Minister Manmohan Singh's election rally in the capital Thursday was canceled following the terrorist attacks in Mumbai, the Indo-Asian News Service reported.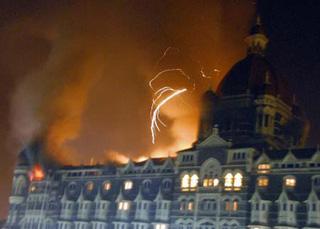 Smoke is seen coming from Taj Hotel in Mumbai November
27, 2008.(Xinhua/Reuters Photo)
He has also called an emergency Cabinet meeting. Indian Home Minister Shivraj Patil is back in Delhi from Mumbai for the meeting.
More than 101 people have been killed and 250 injured in a series of terrorist attacks in Mumbai at 10 places including hotels, hospitals and train stations since Wednesday evening.
Manmohan Singh was to address an election rally in south Delhi Thursday afternoon.
The ruling Congress party had decided to end its campaign for Saturday's assembly election in Delhi with the prime minister's rally.
A hostage crisis continued Thursday with tourists and other guests being held by terrorists in two five-star hotels.
The army was called in to bring the situation under control and restore the sense of security in Mumbai that was shaken in the attacks, one of the worst in the country.
Editor:Zhang Pengfei