World
NY rail lines face terror threat
Source: CCTV.com | 11-27-2008 13:58
Over in the US. Federal authorities are warning law enforcement personnel of a possible terror plot against the New York City subway and train systems.
As police step up security, passengers are taking the warning in stride.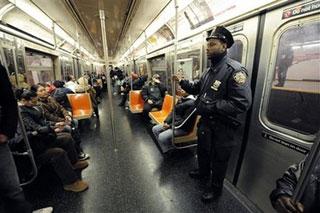 A New York police officer rides a subway train, in New
York Wednesday Nov. 26, 2008.(AP Photo/Richard Drew)
Police are stepping up their presence at the entrances of the New York subway system, highlighting a sense of heightened awareness.
On Wednesday, U.S. authorities warned of a possible al Qaeda threat to transit systems in and around New York City.
Speaking to the Associated Press on condition of anonymity, an authority briefed on the matter says the threat may be directed at passenger rail lines running through New York.
In particular the federally supported passenger service or the Long Island Rail Road -- both particularly busy with holiday travellers during Thanksgiving.
News of the terrorism alert was received with mixed reactions by subway riders who have become accustomed to increased security since the 9/11 attacks.