World
EU-Russia talks may resume
Source: CCTV.com | 11-11-2008 10:50
Support has been growing for the European Union to resume talks with Moscow on a major partnership agreement. The talks were frozen in September in protest over Russia's war with neighboring Georgia.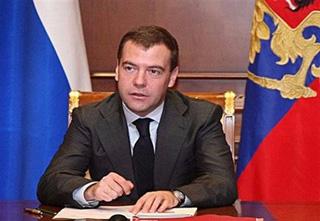 Russian President Dmitry Medvedev speeks during a
session of Russia's Security Council in his Gorki
residence outsude Moscow on November 8, 2008.
(AFP/RIA-NOVOSTI/File/Vladimir Rodionov)
Most EU nations backed reopening the talks as foreign ministers gathered in Brussels to make a decision.
Many EU nations see the resumption of the talks as a way to defuse tension with Russia.
Alexander Stubb, Finish Foreign Minister, said, "It's of a mutual benefit both to the European Union and to Russia. We need to get relations back towards where they were. Economics should not get in the way of politics."
The EU's foreign policy chief, Javier Solana argued that the resumption of talks would be better for the interests of the European Union.
Javier Solana, EU Foreign Policy Chief, said, "I think, as I said before, that to have a relationship with Russia which has a framework is better for the interests of the European Union. It's better to have that than to have the relationship which is outside the framework."
EU-Russia tensions were highlighted last week when President Dmitry Medvedev threatened to deploy short-range missiles close to the Polish border in response to US plans for anti-missile installations in eastern Europe.
Although the EU does not need a unanimous agreement among its 27 member states to resume the talks, the bloc's leaders want to avoid a split decision. Lithuania and Poland still object to going forward with the talks.
The proposed EU-Russia partnership deal would include closer cooperation in fields such as crime fighting, immigration, food safety and trade.
Editor:Zhang Pengfei