World
Russia launches investigation into deadly submarine accident
Source: CCTV.com | 11-10-2008 09:44
An accident on board a Russian submarine has left at least 20 sailors dead and sent 21 others to hospital.
As the brand-new nuclear submarine was being tested in the Sea of Japan, its fire safety system was accidentally turned on.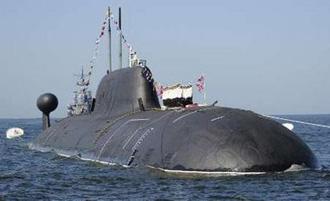 Russian seamen line up on an unidentified submarine
believed to be an Akula-class submarine during a
military parade training in Vladivostok in this July
25, 2008 file photo.REUTERS/Yuri Maltsev
The system released freon gas causing asphyxiation among the crew. A probe will focus on what activated the fire-fighting system, as well as possible violations of operating procedures.
Navy officials say a siren warning the crew that the fire-extinguishing system was turned on may also have failed. The sub is now back at its base on Russia's Pacific coast.
Editor:Zhang Pengfei