China
Japanese navy warship leaves southern China port
Source: Xinhua News Agency | 06-29-2008 10:49
Zhanjiang, Guangdong, June 28 (Xinhua) -- After a five-day visit to China, Japan's Maritime Self-Defense Force destroyer "Sazanami" left the southern Guangdong Province port city of Zhanjiang on Saturday morning.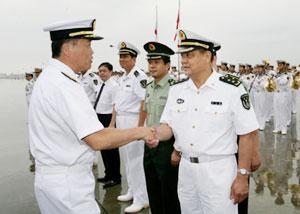 General Su Shiliang (R, front), commander of China's
South Sea Fleet, sees off Major-Gen. Shinichi Tokumaru
(L, front) of the Japanese Maritime Self-Defense Force
at the port of Zhanjiang, South China's Guangdong
Province, June, 28, 2008. (Xinhua Photo)
Sazanami, with its 240-member crew, is the first Japanese warship to visit China since World War II.
A farewell ceremony was held at the port before its departure.
"Please send the love and friendship of the Chinese navy and people back to Japan," Lt. Gen. Su Shiliang, commander of the South Sea Fleet, said to Major-Gen. Shinichi Tokumaru of the Japanese Maritime Self-Defense Force.
Su added the reciprocal visits symbolized an important step in the communication between the China and Japan defense forces.
Before heading back to Japan, the destroyer will have a drill with the Chinese navy in the sea area near Zhanjiang. It will focus on communication and formation.
During its five days in port, the Japanese crew visited the Chinese missile destroyer "Shenzhen" and toured Zhanjiang's urban area. They also played basketball, football and tug-of-war with the Chinese crew in the rain that has blasted southern China of late.
In addition, officers from both sides held seminars to exchange experiences in disaster relief and other activities.
About 1,000 locals visited the Sazanami with smiles and excitement since it was opened to the public on Friday. Chinese and Japanese military bands also gave live performances for visitors with the Chinese Peking Opera and the theme of evergreen Japanese cartoon "Doraemon" on the playlist.