China
Quick snap recorded defense of Olympic torch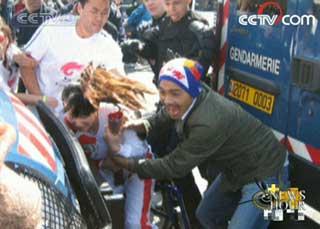 But her bravery would not have been witnessed by the
world without the man who took the picture.
Many people contacted Yang for a copy. He made the file available on the Internet and sent a copy to Jin Jing.
Yang is glad to see his improvised action help so many people understand the Olympic spirit and the ugliness of Tibetan separatists.
Yang Zhendong said, "Later a French man told me that he hoped all people in Tibet could lead a life of democracy, liberty and economic sufficiency. I told him that I totally understood him and that was many other people's wish as well."
After the disruption of the relay, the Olympic torch finished its course in Paris and passed on to the next leg.
As a representation of people's wishes toward peace, harmony and friendship, the Olympic flame will not be extinguished by extremist stunts. Guardians are everywhere.
Editor:Yang Jie