China
Tibet will reopen to tourists "soon"
Source: China Daily | 04-19-2008 15:38
Special Report: 3.14 Tibet Riots

The Tibet regional government on Friday rejected reports it has abandoned a plan to reopen the region to foreign tourists on May 1, saying it "will open soon", without giving a specific date.
In a written statement sent to China Daily, the information office of the regional government said: "The Tibet tourism bureau is doing its utmost to prepare for the reopening of all scenic spots."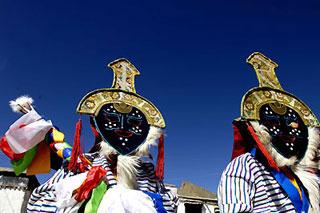 Performers dance at the Tashilunpo Monastery in Xigatse,
Tibet Autonomous Region on April 18, 2008.
Following the riots in Lhasa on March 14, in which 18 innocent civilians were killed, tourism authorities advised people not to visit the region for safety reasons.
Tourist attractions and scenic spots were closed down and travel services were suspended following the unrest.
However, on April 3, the authorities said the region would reopen to foreign and domestic tourists on May 1, a national holiday.
Train tickets to Lhasa have already sold out, a newspaper in Zhengzhou, Henan province, reported recently.
Several other tourism destinations in Tibetan-inhabited regions are also recovering from last month's riots.
Authorities in Diqing Tibetan autonomous prefecture, Yunnan province, said last week the region had now reopened to foreign travelers.
385 rioters surrender
In another development, Jiang Zaiping, deputy head of the Lhasa public security bureau, told a press conference on Friday that 385 people involved in last month's riots have turned themselves in to police.
Most of them claimed they had been coerced into taking part in the riots, while a few admitted to being organizers, he said.
Of the 170 suspects on the most wanted list, 82 have surrendered to police, Jiang said.