China
Torch relay ends in Paris despite disruptions
Source: CCTV.com | 04-08-2008 08:30
Special Report: 2008 Beijing Olympic Games

Special Report: 3.14 Tibet Riots

The Paris section of the Olympic torch relay has ended. It's the fifth leg of the flame's global journey. The torch relay was at least one hour behind schedule due to disruptions by protests over Tibet.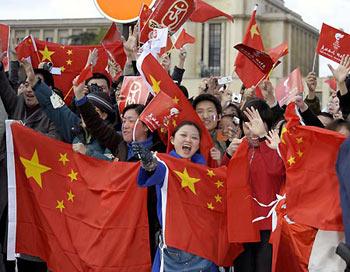 Spectators cheer and wave Chinese national flags as they watch
the Olympic torch relay in Paris, capital of France,on April 7,
2008. Paris is the fifth stop of the 2008 Beijing Olympic Games
torch relay outside the Chinese mainland.(Xinhua Photo)
The torch had to be put onto a bus three times on Monday before it resumed the relay on the ground. A member from the French Green Party attempted to snatch the torch but was stopped by policemen. At least five people have been arrested who tried to interrupt the relay. Around 3,000 French policemen have been deployed to protect the torch.
The relay started at the Eiffel Tower, and was scheduled to pass famous landmarks including the Arc de Triomphe, the Champs Elysees, Concorde Square, the Louvre and Notre Dame Cathedral.