China
President Hu: Crucial to raise living standard of Tibetan people
Source: CCTV.com | 03-07-2008 09:05
Special Report: 2008 NPC & CPPCC sessions

Party leaders joined discussions with NPC deputies from around the country on Thursday. They addressed a wide range of topics: from social development to people's livelihood, from economic reform to environmental protection.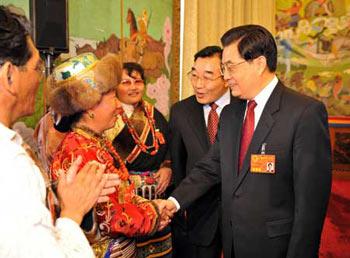 Chinese President Hu Jintao on Thursday talks to a deputy
of the Tibet Autonomous Region in Beijing while joining the
panel discussion. He stressed stability and social harmony
in Tibet.(Xinhua Photo)
Hu Jintao joined discussion with deputies from the Tibet Autonomous Region on boosting the region's economy and improving its people's living standard.
Hu encouraged the region to fashion policies that adhere to the central government's guidelines but keep Tibetan characteristics.
Hu said it is crucial to raise the region's living standard and unite the various ethnic and religious groups.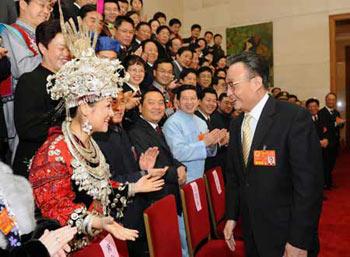 While joining a discussion in the Guizhou delegation, Wu
Bangguo called on the people in Guizhou Province to promptly
recover from the recent snow and ice storms and minimize
losses.(Xinhua Photo)
When meeting with NPC deputies from southwest China's Guizhou province, Wu Bangguo urged the people there to liberate their minds further, and devote themselves to their daily work with creativity.
Wu also stressed the importance of economic progress and the scientific outlook on development to improve people's living standard.