China
Chinese president visits Anhui province
Source: CCTV.com | 01-15-2008 08:32
President Hu Jintao has just concluded his inspection tour of the eastern province of Anhui. The visit focused on reforming the province's pattern of economic development, increasing innovation and promoting changes to the industrial structure. Hu Jintao also visited families to talk with them about their livelihood.
<!a href=# target=_blank>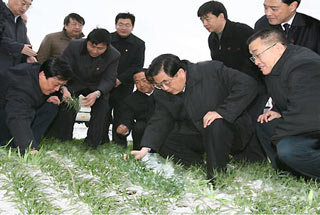 <!a href=# target=_blank>Chinese President Hu Jintao (2nd R, front) watches the growth conditions of wheat during his inspection to the Wangjiaba Town in Funan County, east China''s Anhui Province, Jan. 12, 2008. Hu made an inspection tour to Anhui from Jan. 11 to 14. (Xinhua Photo
President Hu Jintao visited companies and research institutes that made remarkable achievements on scientific innovation. Hu Jintao encourages these organizations to keep dedicating themselves to China's own road of independent innovation.
Hu Jintao said, "There are two key points for businesses. One is that they must establish mechanisms to adapt to competition. The other is that businesses must prioritize innovation as to give them a competitive edge."
Hu Jintao visited the province's Chery Automobile Company. It is the Chinese car manufacturer that has developed most of its own automobile technology.
Hu told its staff that Chery's success has proven independent innovation is at the core of business competitiveness. The president says China's companies should make more efforts at innovation and building competitive brands.
This is a physics research institute in the provincial capital Hefei. Staff here developed the world's first experimental device to simulate the Sun's way of generating energy. It makes China's research in this field world class.
Hu Jintao says independent development also requires breakthroughs on certain key technologies.
On Saturday, Hu Jintao visited Wangjiaba Dam on the Huaihe River. The dam is the River's most important flood control construction. It reduced damage during floods in the summer of 2007.
But People near the dam are often affected by the flood control measures. Many have to leave their homes during evacuations. Hu Jintao visited one of these families.