China
President Hu concludes inspection tour in Anhui
Source: Xinhua | 01-15-2008 08:55
BEIJING, Jan. 14 (Xinhua) -- Chinese President Hu Jintao on Monday concluded his inspection tour of the eastern Anhui Province, showing concern for local economic development and people's livelihood.
<!a href=# target=_blank>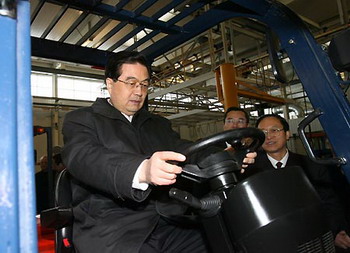 <!a href=# target=_blank>Chinese President Hu Jintao (L) inspects the Anhui Heli Co., Ltd. in east China's Anhui Province, Jan. 13, 2008. Hu made an inspection tour to Anhui from Jan. 11 to 14. (Xinhua Photo)
During his four-day visit, he went to Wuhu, Fuyang and the provincial capital, Hefei, touring factories, villages, communities and disaster-hit areas.
He dropped in scientific research institutes and enterprises engaging in independent innovation, including the Institute of Plasma Physics of the Chinese Academy of Sciences (CAS), a local forklift factory and automobile manufacturer Chery.
The president placed his emphasis of the tour on the shift of local economic development mode, improvement of independent innovation capabilities and industry structure upgrading.
While inspecting factories, Hu visited production workshops, central control rooms, laboratories and testing centers, carefully listening to introductions and examining products.
He was delighted to see independent innovation achievements made by these enterprises and research institutes, encouraging them to continue to tackle key problems by emancipating the mind and sticking to the path of independent innovation with Chinese characteristics.
When visiting Chery, the country's largest Chinese-owned automobile manufacture with a brief history of 11 years, Hu carefully observed car accessories and engine models while discussing with enterprise leaders the development of the country's auto industry.
Along a production line, Hu watched the process of car assembling.
Noting that Chery car exports had amounted to more than half of the country's total, Hu said independent innovation was core competitiveness, and the enterprise should invest more in research and development and "take a larger stride" in innovation.
<!a href=# target=_blank>
<!a href=# target=_blank>Chinese President Hu Jintao (2nd L front) inspects the Chinese Academy of Sciences (CAS) Institute of Plasma Physics in Hefei, capital of east China's Anhui Province, Jan. 13, 2008. Hu made an inspection tour to Anhui from Jan. 11 to 14. (Xinhua Photo)
In the CAS Institute of Plasma Physics, renowned for joining the 11 billion euro (16.3 U.S. billion) ITER project aimed at incubating a sustained solution of energy production, Hu learned carefully about the latest contribution made by China to the largest ever scientific research program under multinational collaboration.
He was delighted to see that China's Experimental Advanced Super-conducting Tokamak, made by Chinese scientists, had put the nation into an international advanced camp of the field.
Plasma physicists said the ITER, initiated by the United States and the Soviet Union, is an enlarged equipment like "Tokamak," a Russian word referring to a machine producing a doughnut-shaped magnetic field for confining a plasma. Tokamak is one of several types of magnetic confinement devices and the leading candidate for producing fusion energy.
The multi-nation collaborated ITER, designed to use abundant resources of deuterium and tritium collected from seawater to produce energy, and subsequently electricity, is expected to be completed in 2016.
In November 2006 China signed the Agreement on the Establishment of the ITER International Fusion Energy Organization for the Joint Implementation of the ITER Project. The European Union, India, Japan, the Republic of Korea, Russia and the United States also signed.
Hu told researchers that independent innovation could gain the nation new edge in development, encouraging them to make breakthroughs in key technologies that "economic and social development is badly in need".