China
China calls for determination, perseverance, wisdom to push forward six-party talks
Source: CCTV.com | 09-30-2007 08:27
<!a href=# target=_blank>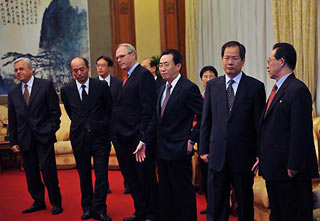 <!a href=# target=_blank>
Six-party talks on the Korean peninsula nuclear issue went into Day Three on Saturday. During that, China called all parties to push on with perseverance, determination and wisdom.
Vice Foreign Minister Dai Bingguo also met chief negotiators saying the latest phase was "vitally important" and that tougher tasks lie ahead. Dai thanked all parties involved for its constructive efforts while negotiators agreed that talks over the past three days have been "pragmatic" and "useful".
They also pledged their unwavering commitment to resolve the nuclear issue under the framework of the negotiations.