China
Chinese, Spanish navies conduct joint military exercise in Atlantic
Source: CCTV.com | 09-20-2007 08:26
<!a href=# target=_blank>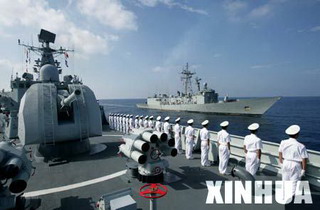 <!a href=# target=_blank>
Chinese and Spanish navies line after conducting joint military exercise in the Atlantic Ocean near Spain's southern port city of Cadiz, on Sept. 18, 2007. (Xinhua Photo)
Two Chinese naval vessels have left the Spanish port city of Cadiz after ending their first visit to Spain.
During the visit, the Chinese guided missile destroyer "Guangzhou" and supply ship "Weishanhu" conducted their joint military exercise with the Spanish navy in the Atlantic Ocean. And Chinese officers and men also watched a military drill by the Spanish navy.
The Chinese and Spanish navy orchestras held a joint performance for local residents. And the Chinese naval vessels also opened for local people.