World
Taliban free two South Korean women hostages
Source: CCTV.com | 08-14-2007 08:31
<!a href=# target=_blank>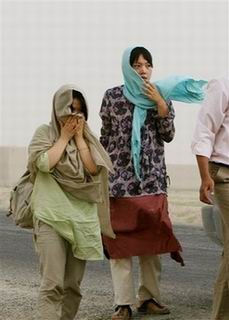 <!a href=# target=_blank>
Two of the released South Korean hostages are seen after they were released by Taliabn in Ghazni province, west of Kabul, Afghanistan on Monday, Aug. 13, 2007. (AP Photo/Musadeq Sadeq)
Two South Korean women held hostage have been freed after being held by the Taliban for almost a month. They were part of a larger group of 23 voluteers who were kidnapped in Afghanistan in late July. Two male hostages have already been killed but the women are said to be in relatively good health.
South's Korea's Foreign Ministry has confirmed the release of two hostages held by the Taliban.
Cho Hee-Youg, spokesperson S. Korean FM, said, "The two hostages, Kim Kyung-ja and Kim Ji-na who were among our citizens kidnapped in Afghanistan, were released safely into our hands on August 13. They are currently under our custody at a safe place, and they'll go through a medical check-up."
A Taliban spokesman says the decision to free the pair was made by the Taliban leadership council as a gesture of goodwill towards the Korean people and South Korean diplomats negotiating the hostages' release.
Relatives of the two freed hostages wept and apologized to the others who are still being held captive.
Sun Yun-Ja, Kim Ji-Na's mother, said, "Two came back as bodies, two will return as being sick -- I am really sorry to the family members of the remaining 19 hostages. I have a very sad heart rather than have a happy heart."
The pair are the first of the hostages to be released by the Taliban kidnappers since the group of 23 Korean church volunteers were abducted in Ghazni Province more than three weeks ago.
The Taliban now hold 19 South Korean hostages, 16 of them women.