World
Afghan doctors deliver medicine for Korean hostages
Source: CCTV.com | 08-06-2007 09:35
<!a href=# target=_blank>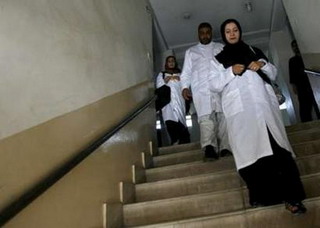 <!a href=# target=_blank>
Afghan doctors leave Wahaaj Clinic for Ghazni province after volunteering to treat the South Koreans taken hostage by the Taliban, in Kabul August 3, 2007. REUTERS/Ahmad Masood (AFGHANISTAN)
Afghan doctors have delivered more than 1,200 US dollars worth of medication for the South Korean hostages.
The head of a private Afghan clinic says his team has dropped off antibiotics, pain killers, vitamin tablets and heart pills in a desert area in Ghazni province. They acted under the directions of the Taliban rebels.
Mohammad Hashim Whhaj, head of clinic, said, "We have given some drugs for the Korean hostages. We have also come to know that among the Korean hostages are some doctors and nurses. They know about these drugs and can use them."
Editor:Du Xiaodan