China
Chinese President calls on PLA to improve combat capabilities
Source: CCTV.com | 03-13-2007 09:21
Special Report: 2007 NPC & CPPCC sessions

<!a href=# target=_blank>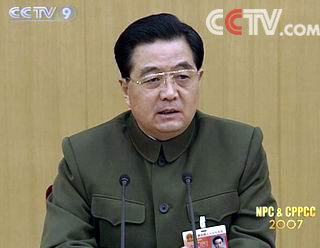 <!a href=# target=_blank>
In Beijing, Chinese President Hu Jintao has called on the People's Liberation Army to modernize itself. He said this is necessary for a strong security guarantee for developing a well-off and harmonious society. The president, who's also the head of the Central Military Commission, made the call on Monday during a session of NPC deputies from the PLA.
President Hu Jintao first listened to the ideas presented by a number of PLA deputies on improving national defense as well as Army building. Later he addressed the session.
President Hu said the PLA has a sacred mission to deal with security challenges and safeguard national development. He called on the PLA to pay close attention to changes in both domestic and international situations while fulfilling its mission.