China
President Hu urges intensive training of armed forces
Source: Xinhuanet | 03-13-2007 07:47
Special Report: 2007 NPC & CPPCC sessions

<!a href=# target=_blank>
<!a href=# target=_blank>
Chinese President Hu Jintao, who is also general secretary of the Communist Party of China (CPC) Central Committee and chairman of the Central Military Commission, delivers a speech to the deputies of the Chinese People's Liberation Army (PLA) to the Fifth Session of the Tenth National People's Congress (NPC) in Beijing, capital of China, March 12, 2007. Hu Jintao attended the plenary meeting of the PLA delegation to the Fifth Session of the Tenth NPC and made a speech on Monday. (Xinhua/Wang Jianmin)
<!a href=# target=_blank>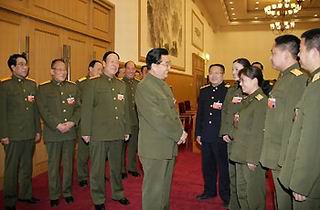 <!a href=# target=_blank>
Chinese President Hu Jintao (C, front), who is also general secretary of the Communist Party of China (CPC) Central Committee and chairman of the Central Military Commission, talks to the deputies of the Chinese People 's Liberation Army (PLA) to the Fifth Session of the Tenth National People's Congress (NPC) after the meeting in Beijing, capital of China, March 12, 2007.(Xinhua/Wang Jianmin)
BEIJING, March 12 (Xinhua) -- Chinese President and Chairman of the Central Military Commission Hu Jintao on Monday urged the armed forces to keep conducting military trainings so as to provide strong security support for building a well-off and harmonious society.
The armed forces, which used to depend on mechanical equipment, should actively blend its military drills with the features of information age, said the Chinese top leader, who is also general secretary of the Communist Party of China (CPC) Central Committee, at a meeting participated by deputies from the People's Liberation Army (PLA) during the ongoing parliamentary session.
The armed forces should improve their capacity for actual warfare in the information era through carrying out strict and hard military trainings, said Hu, calling for renovation in the contents and methods of military trainings.
Hu stressed that the military authorities should promote reforms in a step-by-step manner to improve the capability of troops and make the armed forces well prepared for military fighting.
The PLA should keep a close eye on the changes of both domestic and international situation, further heighten its awareness of crises and tasks, and fulfill its new missions in the new century, and provide strong security support for building a prosperous and harmonious society, said Hu.
He also required the armed forces to be well disciplined and obey the command of the CPC Central Committee and the Central Military Commission on any occasions.
Editor:Du Xiaodan