China
President Hu calls for nationwide effort to develop modern agriculture
Source: CCTV.com | 03-09-2007 08:07
Special Report: 2007 NPC & CPPCC sessions

<!a href=# target=_blank>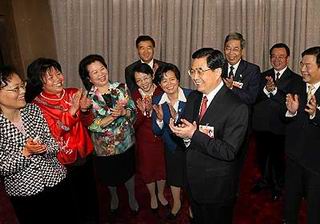 <!a href=# target=_blank>
Chinese President Hu Jintao (C, front) talks to female deputies during the panel discussion of deputies from southwest China's Chongqing Municipality to the Fifth Session of the Tenth National People's Congress on the occasion of International Women's Day in Beijing, capital of China, March 8, 2007. (Xinhua/Jin Xiaoding)
China's top leaders joined NPC deputies and CPPCC members in their group discussions on Thursday.
Thursday marks International Women's Day. Joining the delegation from Chongqing Municipality for group discussions, President Hu Jintao first extended holiday greetings to women NPC deputies and CPPCC members.
President Hu stressed the needs to give stronger support to the development of modern agriculture, increasing farmers' incomes and building of a new socialist countryside. He also called for allocating more financial resources to improve the people's livelihoods and solving problems that are of the highest concern for the public.