China
AP official: Property Law, Corporate Income Tax Law are focal points
Source: CCTV.com | 03-08-2007 09:44
Special Report: 2007 NPC & CPPCC sessions

This year's NPC and CPPCC sessions have attracted plenty of foreign journalists. And this year, they have greater access to the delegates after new rules were announced and restrictions eased.
The BBC reported live on the opening of the Fifth Session of the Tenth NPC in its major news program along with CNN and other national TV networks from many countries.
Associated Press has been sending out consecutive reports on the sessions. An AP official says the Property Rights Law and Corporate Income Tax Law are their focal points.
<!a href=# target=_blank>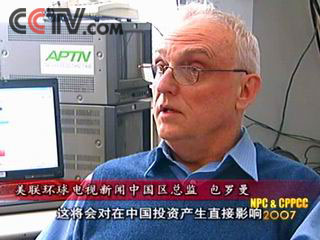 <!a href=# target=_blank>
Norman Bortorff, APTV Beijing bureau chief, said, There will be a new Corporate Income Tax Law to be enacted, it will directly affect foreign investment in China.
Since the opening of the annual CPPCC session on March 3rd, more than two hundreds foreign news agencies from over thirty countries have been covering the annual sessions. China's Economic Growth and Social Development are both focal points for their reporting.
<!a href=# target=_blank>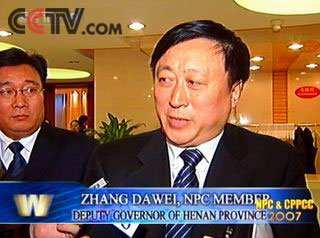 <!a href=# target=_blank>
Zhang Dawei, NPC member Deputy governor of Henan province, said, We would like to sincerely and honestly answer the media's questions, and make friends with them.
The new rules for foreign journalists allow them to do face to face interview with deputies, and publish where the delegations are staying while in Beijing.
Editor:Du Xiaodan