China
Premier Wen underlines ecological, environmental protection
Source: Xinhuanet | 03-07-2007 10:20
Special Report: 2007 NPC & CPPCC sessions

<!a href=# target=_blank>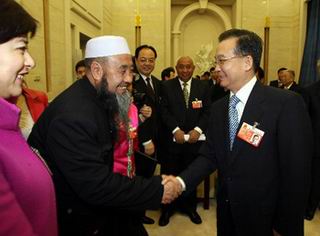 <!a href=# target=_blank>
Chinese Premier Wen Jiabao (R) shakes hands with a deputy during the panel discussion of the deputies from northwest China's Gansu Province to the Fifth Session of the Tenth National People's Congress (NPC) in Beijing, March 6, 2007.(Xinhua/Li Xueren)
BEIJING, March 6 (Xinhua) -- Governments and officials should prioritize the protection of ecology and environment when seeking social, economic development, Chinese Premier Wen Jiabao said hereon Tuesday.
"We must unswervingly adhere to the principle of protecting ecology and environment to promote harmony between human beings and nature," Wen said at a panel discussion of lawmakers from northwest Gansu Province who are in Beijing for the annual session of the National People's Congress (NPC).
Wen said that the environment needs special protection in Gansu Province given its fragile ecological system and poor natural resources.
He said ecological and environmental protection is key to the country's sustainable development, and has a huge impact on people's life.
He urged Gansu officials to do good work in the protection of the ecological environment and cultural heritage of Dunhuang, a world heritage site, curb the expansion of land desertification and salinization, prevent the Hongyashan Reservoir in Minqin County, the biggest man-made desert reservoir in Asia, from diminishing, and make utmost effort to protect glaciers on Qilianshan Mountain.
The annual session of the NPC, China's top legislature, opened in Beijing on Monday morning with the presence of nearly 3,000 deputies.
Editor:Du Xiaodan