China
Highlights of Premier Wen´s government work report
Source: Xinhuanet | 03-05-2007 09:03
Special Report: 2007 NPC & CPPCC

<!a href=# target=_blank>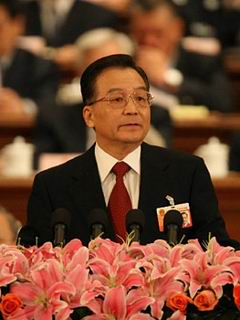 <!a href=# target=_blank>
Premier Wen Jiabao delivers a report on the work of the government at the opening session at the Great Hall of the People in Beijing, March 5, 2007. (Xinhua Photo/Ju Peng)
BEIJING, March 5 (Xinhua) -- Chinese Premier Wen Jiabao is to deliver a report on the work of his cabinet at the opening meeting of the annual full session of the National People's Congress (NPC), China's top legislature, scheduled to start here in the Great Hall of the People at 9 a.m. Monday.
Following are the highlights of Wen's 35-page Report on the Work of the Government, which was distributed to journalists prior to the opening of the NPC session:
GROWTH TARGET
-- In 2007, China's GDP is projected to grow by about 8 percent.
-- The most important task is to promote sound and fast economic development.
MACROECONOMIC REGULATION
-- Macroeconomic regulation must be strengthened and improved. The focus of this work is to keep the scale of fixed asset investment and credit under control and to promote overall balance between total supply and total demand while improving the structure.
SOCIAL HARMONY
-- Social harmony and stability as well as a better life are the aspirations of all the people and an important goal for the work of the government. This year the government will adopt more effective measures and make major strides in building a harmonious socialist society.
NEW SOCIALIST COUNTRYSIDE
-- This year's work related to agriculture, rural areas and farmers will focus on accelerating the development of modern agriculture and effectively promoting the building of a new socialist countryside.
-- Allocations from the central government budget for resolving issues related to agriculture, rural areas and farmers will total 391.7 billion yuan, an increase of 52 billion yuan over last year.
-- China will set up a nationwide basic minimum cost of living allowance system this year for rural residents.
-- The trial area of the new type of rural cooperative medical care system will be expanded this year to cover over 80 percent of all counties, county-level cities and city districts in China.
ENERGY, ENVIRONMENT AND LAND
-- The country fell short of the targets set at the beginning of 2006 for cutting energy consumption per unit of GDP by about 4 percent and total discharge of major pollutants by 2 percent.
-- This year China will take strong measures to save energy, lower energy consumption, protect the environment and use land intensively.
FOREIGN TRADE
-- China must optimize the mix of imports and exports, change the pattern of its foreign trade growth and strive to reduce its excessively large trade surplus.
-- Promoting economic development and increasing employment through the growth of foreign trade is a principle China must follow for a long time to come.
RMB EXCHANGE RATE AND FOREIGN EXCHANGE RESERVES
-- China will further improve the mechanism for setting the RMB exchange rate, strengthen and improve foreign exchange administration, and actively explore and develop channels and means for appropriately using state foreign exchange reserves.
EDUCATION
-- Education is the bedrock of China's development, and fairness in education is an important form of social fairness. China needs to make education a strategic priority and accelerate the development of all types of education at all levels.
-- A system of national scholarship and tuition assistance will go into operation this school year for regular undergraduate institutions, vocational colleges and secondary vocational schools. The government will further implement the state student loan policy to enable children from families with financial difficulties to attend college or receive vocational education.
-- China will institute free education for students majoring in education in teacher colleges directly under the Ministry of Education and set up a corresponding system.
INCOME GAP
-- China will deepen reform of the income distribution system to narrow the increasing gaps in income levels and expand consumer demand. The government will take a variety of measures to increase the incomes of both urban and rural residents, especially low- and middle-income persons.
CORPORATE INCOME TAX
-- The timing and conditions are now ripe for unifying the enterprise income tax rates for domestic and overseas-funded enterprises in order to level the playing field.
REAL ESTATE SECTOR
-- The real estate industry should focus on developing reasonably priced commercial housing for ordinary people. The government will pay particular attention to addressing the housing problems of low-income families.
-- The government will strengthen oversight and regulation of housing prices, prevent overheating in housing prices and keep prices at a reasonable level.
Editor:Du Xiaodan