China
Senior CPC leader calls for intensified anti-corruption efforts
Source: Xinhuanet | 03-07-2007 10:17
Special Report: 2007 NPC & CPPCC sessions

<!a href=# target=_blank>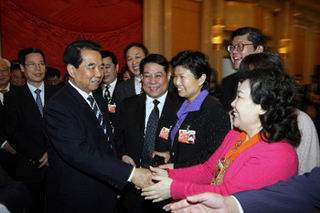 <!a href=# target=_blank>
Wu Guanzheng (L), member of the Standing Committee of the Political Bureau of the Communist Party of China (CPC) Central Committee and head of the Central Commission for Discipline Inspection of the CPC, shakes hands with a deputy during the panel discussion of the deputies from east China's Shandong Province to the Fifth Session of the Tenth National People's Congress (NPC) in Beijing, March 6, 2007.(Xinhua/Yao Dawei)
BEIJING, March 6 (Xinhua) -- A chief discipline inspector of the Communist Party of China (CPC) on Tuesday called for strengthened efforts in the construction of a clean Party and clean governments to boost social harmony and stability.
Wu Guanzheng, secretary of the CPC Central Commission for Discipline Inspection, made the calls at a panel discussion of a group of lawmakers from eastern Shandong Province who are in Beijing attending the annual full session of the National People's Congress (NPC), China's top legislature.
Wu and the lawmakers discussed the government work report delivered by Premier Wen Jiabao at the opening meeting of the NPC session on Monday.
Wu, member of the Standing Committee of the Political Bureau of the CPC Central Committee, gave consent to Premier Wen's call to combat corruption in his report.
An upright cadre team, which can win support from the masses, can help lay a sound foundation for social harmony and stability, said Wu.
Wu urged officials to cultivate a correct conception of power, be self-disciplined and be open to supervision.
He also urged discipline inspection organs to "seriously investigate and deal with major cases and focus their work on those issues that people are most concerned".
Editor:Du Xiaodan