China
President Hu promises crackdown on corruption at anti-graft conference
Source: CCTV.com | 01-10-2007 13:56
Special Report: 2007 NPC & CPPCC

Chinese President Hu Jintao has promised a severe and systematic crackdown on corruption. He made the pledge in a key-note speech delivered at a national anti-graft conference.
<!a href=# target=_blank>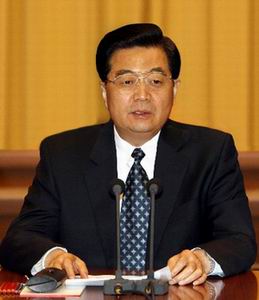 <!a href=# target=_blank>
The three-day meeting of the CPC Central Commission for Discipline Inspection started on Monday.
Acknowledging the progress the commission made last year, President Hu said the Party still faces an "arduous fight against corruption".
He told senior Party officials and the 110 commission members attending the session that they should continue investigating "major and high-level corruption cases" and punish corrupt officials.
China's fight against graft last year led to the downfall of several senior officials, including former Shanghai party chief Chen Liangyu, former Beijing Vice Mayor Liu Zhihua, and former top statistician Qiu Xiaohua.
Hu Jintao called on government officials and Party cadres to establish a comprehensive system to prevent and punish corrupt officials. And to blend anti-graft efforts into the country's economic, political, and cultural developments.
Editor:Du Xiaodan