China
Foreign Minister Li Zhaoxing meets the press
Source: CCTV.com | 03-06-2007 17:25
Special Report: 2007 NPC & CPPCC sessions

<!a href=# target=_blank>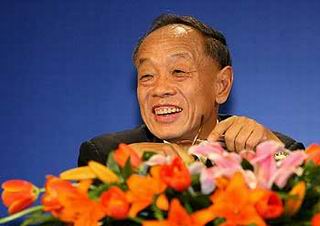 <!a href=# target=_blank>
Chinese Foreign Minister Li Zhaoxing addresses the media during a press conference held by the Fifth Session of the Tenth National People's Congress (NPC) at the Great Hall of the People in Beijing, capital of China, March 6, 2007. (Xinhua/Huang Jingwen)
In Beijing, where Foreign Minister, Li Zhaoxing ,has just met domestic and overseas journalists on the sidelines of the ongoing annual sessions of the NPC and CPPCC. The press conference focused on China's foreign policy and external relations.
The building of a harmonious world was the first issue the Chinese Foreign Minister was asked about.
Li Zhaoxing said that mutual respect and non-interference in other countries' internal affairs are necessary conditions for building a harmonious world.
Li Zhaoxing said, "The United Nations Charter establishes the principle of non-interference in each other's internal affairs. According to that provision, the United Nations, as the largest inter-governmental organization in the world, should not interfere in the internal affairs of its member countries. It can be imagined and understood that any country should not interfere in the internal affairs of another country."
Li Zhaoxing said China is committed to promoting peaceful coexistence, equal treatment, cooperation, and development among countries.
The foreign minister noted Chinese President Hu Jintao's upcoming visit to Russia will further boost the Sino-Russian strategic partnership.
This year marks the Year of China in Russia, and the two countries will hold about 200 activities to promote bilateral exchanges, deepen traditional friendship and further boost Sino-Russian coordination.
Li Zhaoxing also said Premier Wen Jiabao's visit to Japan in April will be the first by a Chinese leader in seven years. He said it was greatly important to the two countries.
Li also said Japan should face up to history, take responsibility, and properly handle the issue of "comfort women", who were World War Two-era sex slaves to the Japanese military.
On the Korean nuclear controversy, Li Zhaoxing said dialogue and consultation remained the best way to solve the issue.
He said China will continue to work with the other countries in the six-party talks to facilitate the discussions. IN addition, all sides should faithfully fulfill their commitment to resolving the issue.
The Chinese Foreign Minister said the Iranian nuclear issue should be resolved through diplomatic channels and negotiation.
Li Zhaoxing called on Iran to step up cooperation with the IAEA, saying China hopes to see the resumption of diplomatic negotiations for regional peace and stability.
He announced that China and African countries will build a politically supportive and economically strong strategic partnership, that takes culture into account.
Li Zhaoxing also said the Chinese government fully supports the consensus reached by the United Nations, the African Union and the Sudanese government on the Darfur issue.
The foreign minister also answered questions on Taiwan, and a number of other major international issues.
Editor:Du Xiaodan