China
Top legislator values role of returned overseas Chinese in social harmony
Source: Xinhuanet | 03-05-2007 10:04
Special Report: 2007 NPC & CPPCC sessions

<!a href=# target=_blank>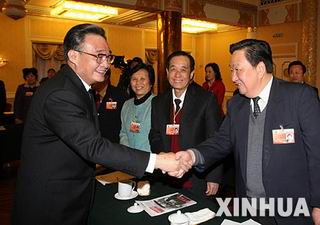 <!a href=# target=_blank>
Wu Bangguo (L, front), chairman of the Tenth National People's Congress (NPC) Standing Committee, meets with members of the China Zhi Gong Party and the All-China Federation of Returned Overseas Chinese who attend the Fifth Session of the Tenth National Committee of the Chinese People's Political Consultative Conference (CPPCC), in Beijing, capital of China, March 4, 2007. (Xinhua/Li Xueren)
BEIJING, March 4 (Xinhua) -- China's top legislator Wu Bangguo called for the returned overseas Chinese to fully play their role in building a harmonious society in the group discussion with some of the country's political advisors on Sunday.
More than 2,100 members of the National Committee of the Chinese People's Political Consultative Conference (CPPCC) are attending an annual session which opened on Saturday and is scheduled to close on March 15.
Wu asked the advisors from the All-China Federation of Returned Overseas Chinese and the China Zhi Gong Party to strengthen cooperation with the Communist Party of China (CPC) and put forward forthright suggestions.
In addition, he called on the federation and the party to pool the wisdom of their members to build a well-off and harmonious society, and accomplish national reunification, said Wu, also a member of the Standing Committee of the Political Bureau of the CPC Central Committee.
Wu also expressed the hope that the federation and the party earnestly protect the interests of returned overseas Chinese and their relatives.
Editor:Du Xiaodan