World
US denies involvement in kidnapping of Iranian diplomat
Source: CCTV.com | 02-07-2007 09:05
<!a href=# target=_blank>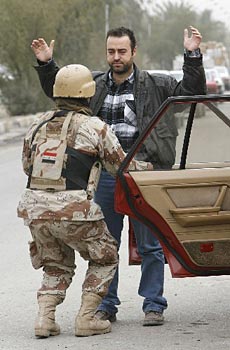 <!a href=# target=_blank>An Iraqi soldier frisks a motorist
at a checkpoint in Baghdad Feb. 6, 2007.
Thirty gunmen wearing Iraqi military uniforms have kidnapped an Iranian diplomat in Baghdad. Officials back in Tehran have reacted by condemning Sunday's abduction warning that it can only damage regional and global peace.
Rahim Mashaei, Iranian vice-president, said, "It's obvious such action will not benefit the people of Iraq, and this region, and certainly will not help world peace. We must try to put an end to this. The main problem in this region is the current occupation. And it's impossible for us to reach any positive conclusion under current circumstances."
It's still not clear who engineered the kidnap. But Iran's Foreign Ministry says it was carried out under the supervision of US forces stationed in the capital and that it will hold the army responsible for the diplomat's safety. But the US military has so far denied any involvement in Sunday's kidnap.
Editor:Du Xiaodan