World
Russia says war is not solution to Iran´s nuclear issue
Source: CCTV.com | 01-29-2007 08:36
Russia has reiterated that military action is not a way to solve the standoff over Iran's nuclear ambitions. The message came during a one-day visit by the head of the Russian National Security Council, Igor Ivanov, to Tehran.
<!a href=# target=_blank>
<!a href=# target=_blank>
Ivanov met with Iranian President Mahmoud Ahmadinejad and other officials including chief nuclear negotiator Ali Larijani. At a joint news conference later, Ivanov emphasized that all sides should do their best to find a political solution to the issue. A senior official from Iran's Atomic Energy Organization said the country has not started the instalment of centrifuges.
<!a href=# target=_blank>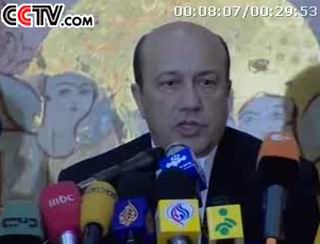 <!a href=# target=_blank>
Last year, Russia agreed to ship fuel to Iran's Bushehr nuclear power station by March 2007, with electricity generation to start by November.
Editor:Du Xiaodan