China
Hu stresses rejuvenation of old industrial base in NE
Source: Xinhuanet | 01-29-2007 10:35
<!a href=# target=_blank>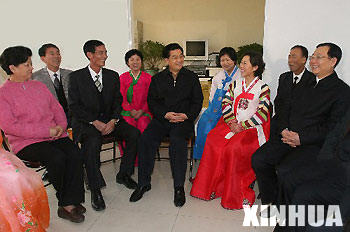 <!a href=# target=_blank>Chinese President Hu Jintao (C) talks with the members of an ethnic Korea family during a visit to Dahuangdi Village near Jilin city in northeast China''s Jilin Province Jan. 27, 2007. President Hu made an inspection tour in Jilin Province from Jan.26 to 28
CHANGCHUN, Jan. 28 (Xinhua) -- Chinese President Hu Jintao on Sunday stressed the rejuvenation of the old industrial base in northeast China during an inspection tour in Jilin Province.
While visiting companies, research institutes and villages in Jilin and Changchun cities of the province, Hu urged local governments to seize the opportunity of rejuvenating the old industrial base and promote both social and economic development in this area.
Hu visited Jilin Carbon Co., Ltd. of Sinosteel Corporation, Changchun Institute of Applied Chemistry of the Chinese Academy of Sciences, and Sino-Microelectronics.
He required the local governments to fully display the role of talented people at universities and research institutes, and to blend scientific research with production to foster famous brands with self-innovative technology.
Jilin is also China's key commodity grain base. While visiting villages and talking with farmers, Hu said the government will continue to implement preferential agricultural policies and speedup the modernization of the countryside.
In a worker's family, he urged local officials to resolve problems that needy people face and organize trainings for the reemployment of laid-off workers.
The president also called on officials to maintain a serious working and life style, and resist misconduct and malpractice.
Editor:Du Xiaodan