China
China: More new weapons to be released
Source: CCTV.com | 01-09-2007 15:26
<!a href=# target=_blank>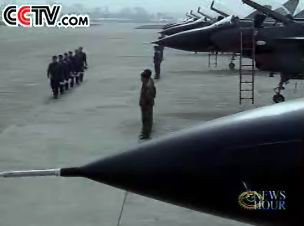 <!a href=# target=_blank>
Four days after China unveiled its new fighter jet, the J-10, China says it will showcase more new weapons.
The State Commission of Science Technology and Industry for National Defense says that a batch of advanced new weapons will soon be delivered to the armed forces.
The spokesmen Huang Qiang said, "China is such a big country, we need to have a strong national defense. We are always in favor of peace. We don't want to go into war. We develop our national defense industry in the spirit of safeguarding peace. It is certain that there will be other heavy weapons similar to J-10 being released."
China released its new-generation fighter aircraft last Friday. The J-10 series marks a breakthrough in China's research and development of fighter aircraft. J-10 is the most advanced fighter jet ever developed in China. With sophisticated aerodynamics the fighter is even superior to the Su-27. Another character of the J-10 is its pay load. It has an estimated maximum take off weight of around 18 tons. This includes 7 tons of weapons.
Editor:Du Xiaodan