China
China once again solemnly urges CNN´s sincere apology
Source: CCTV.com | 04-18-2008 08:34
Special Report: 3.14 Tibet Riots

China's Foreign Ministry spokeswoman Jiang Yu has discussed the Olympic torch relay and CNN's insincere apology at the ministry's regular press briefing.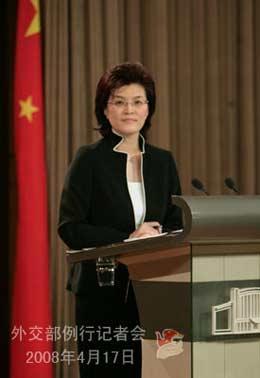 Chinese Foreign Ministry spokeswoman Jiang Yu
In relation to Japan's refusal to use China's torch escort runners in the Olympic torch relay, Jiang Yu said that the escorting runners were approved by the International Olympic Committee.
Jiang Yu said, "These escort runners, all volunteers, protect the torch with their bodies from the seizure by "Tibetan Independence" supporters. This kind of spirit should be praised and understood, while the mob which disrupts should receive universal condemnation. China hopes that relevant countries will recognize the task and provide active coordination and assistance for the relay."
Jiang Yu said that the statement issued by CNN on Tuesday not only failed to sincerely apologize for commentator Jack Cafferty's remarks, but spearheaded its attack on the Chinese government. She said it attempted to incite the Chinese people against the Chinese government, and China could never accept that.
Jiang Yu said, "The Chinese people cannot be bullied and humiliated. We once again solemnly urge CNN to seriously deal with the matter, take back the vile remarks and make a sincere apology to all Chinese people."
Jiang told the conference that the central government has used sincerity and patience contacting with the Dalai Lama, who has never responded positively.
Jiang Yu said, "The door is open for dialogue between the central government and Dalai on condition that he shows sincerity for talks through concrete action. We have repeated that as long as Dalai gives up activities of splitting the motherland, disrupting the Beijing Olympic Games and inciting violent sabotage, we're willing to continue contact with him. "
Jiang Yu also commented on the European Chamber of Commerce's concerns about the repelling emotions of Chinese and European consumers on each other's products. She said that maintaining healthy and stable China-Europe relations benefits both sides. China hopes that Europe will consider bilateral relations as strategic and long-term.
Editor:Zhang Ning