Source: Xinhua
05-11-2009 11:11
Special Report:
Tech Max
BEIJING, May 9 (Xinhuanet)-- NASA will set off on the final shuttle mission to the Hubble space telescope on May 11.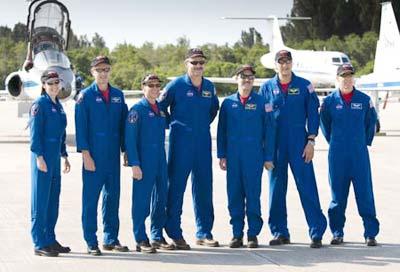 The crew of the space shuttle Atlantis STS-125 (L to R) mission
specialist's Megan McArthur, Michael Good, pilot Gregory Johnson,
commander Scott Altman, mission specialist's John Grunsfeld, Michael
Massimino and Andrew Feustel stand for a group photo after arriving
at the shuttle landing facility at Kennedy Space Center in Cape
Canaveral, Florida May 8, 2009. (Xinhua/Reuters Photo)
Space shuttle Atlantis is scheduled to blast off at 2:01 p.m. EDT May 11 from the Kennedy Space Center in Florida.
Shuttle weather officer Kathy Winters told reporters there was an 80 percent chance of favorable meteorological conditions for the launch of space shuttle Atlantis.
The countdown for NASA's trip to the Hubble Space Telescope began Friday as the astronauts arrived at the launching site.
The 11-day mission will be lead by Commander Scott Altman and six crew mates. They will be tasked with refurbishing the Hubble with state-of-the-art instruments that are expected to expand the telescope's capabilities and extend its lifetime through at least 2014.
The Hubble Telescope has been in space for 19 years at this point which is already twice the length of time it was initially expected to work.
The misssion -- code named STS-125 -- is the fifth and last of its kind.

-- Click for more news in Tech Max >>
Editor:Yang Jie