Source: Xinhua
04-21-2009 14:04
Special Report:
Tech Max
KATHMANDU, April 21 (Xinhua) -- A team of the U.S. National Aeronautics and Space Administration (NASA) flew to Lukla on Monday, where they will mix family fun with research at Mt. Qomolangma base camp, The Kathmandu Post reported on Tuesday.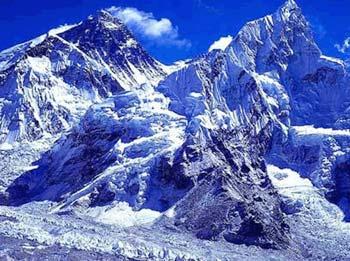 Mt. Qomolangma
According to the daily, the team comprises 25 members, 11 of them career scientists.
Besides recreation, they aim to research for benefit of future space travelers. Mt. Qomolangma was chosen for its extreme environment, which provides a good space analog.
According to NASA, the group plans to research the human bio-clock and detect snow algae. They are equipped with NASA-developed devices like actiwatch to monitor sleep-wake cycles in challenging environments, and Lab-on-a-Chip Application Development-Portable Test System to detect cold-tolerant microorganisms.
"Though the trip is unofficial and a quasi-scientific study, our research can help astronauts," said team member Jake Maule. However, they have not taken permission from Nepali authorities.
The Department of National Parks and Wildlife Conservation, which must be consulted for biodiversity research, is unaware of their plans. "We haven't granted permission to any scientist for any biodiversity research in Mount Everest (Qomolangma) area recently," said Shiva Raj Bhatta, Management Officer at the department.
-- Click for more news in Tech Max >>
Editor:Yang Jie