Source: Xinhua
04-20-2009 11:43
Special Report:
Tech Max
KATHMANDU, April 19 (Xinhua) -- A team of the U.S. National Aeronautics and Space Administration (NASA) officials has arrived in Kathmandu on a visit to the Mt. Qomolangma region.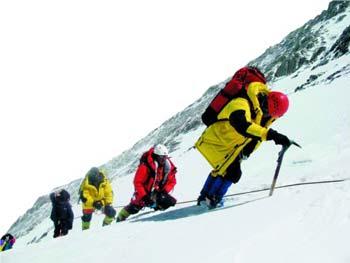 Climing the World's highest mountain -- Mt. Qomolangma(File
photo)
A report of local newspaper The Himalayan Times said on Sunday, "The team members said they would contribute to the research activities of the NASA. They, however, said their trip was not official."
NASA Orion Landing System Integration Manager and leader of the expedition Chris J. Johnson said there are doctors, pilots and scientists in the 11-member team.
"Steve Vander Ark, section manager of the NASA Behavioral Health and Performance Group said NASA scientist Jake Maule and he wanted to do some serious research to help the astronauts," the report said.
Equipped with the Actiwatch and Lab-On-a-Chip Application Development Portable Test System, the team members would record the sleeping and waking movements and light exposure of the subjects, Steve said, adding that the Lab-On-a-Chip, which detects bacteria and fungi on surfaces inside the International Space Station, will be used to look for snow algae.
"We will meet former NASA astronaut Scott Parazynski at the base camp," Chris said, adding that Scott will conquer Mt. Qomolangma soon.
If his attempt is successful, Scott will become the first person ever to have gazed up at space from the pinnacle of Earth's tallest mountain, and gazed down on that same pinnacle from the black vacuum of space.