China
Returned overseas Chinese help with Beichuan school reconstruction
Source: CCTV.com | 05-13-2009 13:10
Special Report: One Year after 5.12 Quake

The All China Federation of Returned Overseas Chinese began to rebuild Beichuan School on Tuesday afternoon with completion due before September the 1st next year.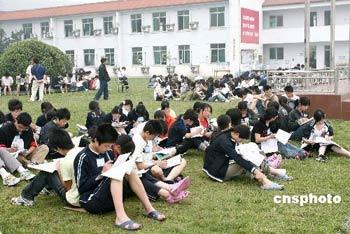 The Beichuan Middle School was the first project to be built
in the new seat of Beichuan County.
The new facility is designed to cater for 5,200 students, and will cost nearly 200 million yuan, or 29 million U.S. dollars. Construction on the school also marked the start of reconstruction of the whole county in a new location.
The public came to the site early. More than 100 representatives of overseas Chinese, and 1,300 students and staff attended the foundation-laying ceremony of the new Beichuan Middle School.
The reconstruction started at 2:28 p.m., the exact moment the 8.0-magnitude quake struck Wenchuan county of Sichuan. People at the ceremony first paid tribute to those who had lost their lives.